How to deposit crypto currency?
For WEB:
Step 1: Click the top of right side "Deposit", it will show the deposit page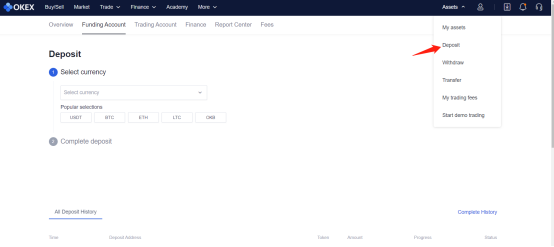 Step 2: Select the currency to deposit, copy the deposit address or scan the QR code to complete your deposit.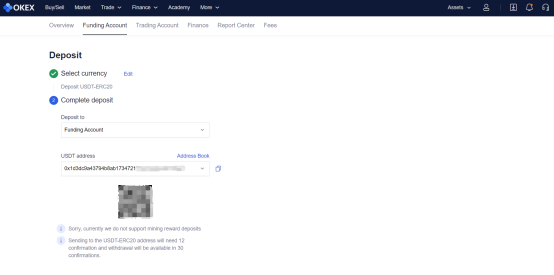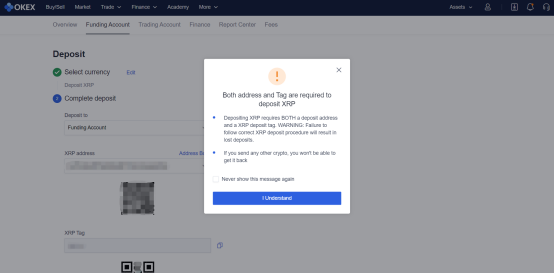 For APP: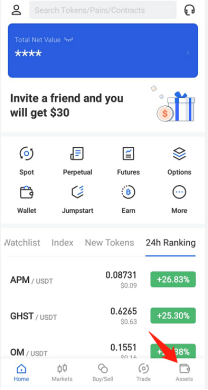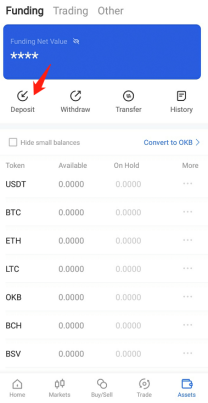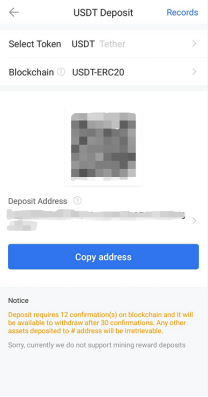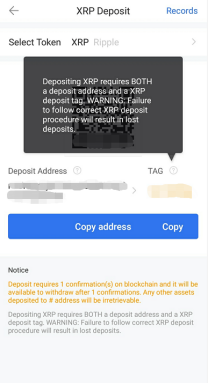 Q: Why my crypto currency has not been credit?
A: There are several cases that the deposit hasn't been credited as following:
1. The deposit was remitted from withdrawal platform; however, it can't be found in Blockchain. For this situation you may need to contact your withdrawal platform to confirm the transaction;
2. The deposit displayed in Blockchain, however, the confirmations are not enough, which means you may need to wait in patience until it is confirmed automatically by miners.You may check the token confirmation requirements & Blockchain Explorers in this link. (https://www.OKX.com/support/hc/en-us/articles/360000205532-Token-Confirmation-Requirements-Blockchain-Explorers);
3. Please kindly note that the deposit address of IOTA can only be used for once time. Your deposit will be lost when you deposit to the same IOTA address for the second time.
4. If the deposit amount is lower than requested minimum amount, then it will not be credited. (Please check the requested minimum deposit amount on deposit page) ;
Solution for normal deposit not arrive:
If your deposit is confirmed in Block Chain however it is not credited to your OKX account, then please provide the deposit information including the deposit token, amount, address and TXID (Transaction ID or Hash ID) to customer service team via the chat bot in Support Center or "Submit a request", then our specialist will help you to deal with it.
If your deposit can't be found or unconfirmed in Block Chain, then please contact the remitting platform to ask.
5. For the deposit which needs memo or tag, if the transaction is remitted from withdrawal platform without or with wrong memo or tag will cause your deposit not credit or lost.
Solution for deposit without or wrong tag:
1. Please prepare a video to record:
a. of you logging into withdrawal exchange
b. going to your withdrawal record page
c. showing this transaction with the details (coin type, amount, txid)
d. please also show the withdrawal address
e. a handwritten note
2. raise a ticket with our Chat Bot in Support Center, then our specialist will help you to deal with it.
---
A step-by-step guide to purchasing and selling crypto on OKX,
Step 1: Log in to your OKX account
Before you can start buying or selling cryptocurrency on OKX, you must first log in to your OKX account. If you do not yet have an account, click Sign up and complete the registration process.
Step 2: Select Buy/Sell
Once you have logged in to your OKX account, click Buy Crypto in the upper left-hand corner of the screen to get started.
Step 3: Select your purchasing method
The next step is to choose how you would like to buy or sell . There are two primary options on OKX: Express and P2P trade.
Finally, simply confirm your transaction details.
---
Sign up and log in with the App to claim your Mystery Box worth up to $10,000