What is Lightning Network? What are its advantages?
Lightning Network is used for deposit and withdrawals, providing users with a more cost-effective and efficient Bitcoin deposit and withdrawal experience.
It aims at facilitating microtransactions, so the maximum trading limit is 0.05 BTC (c. 2,750 USD), and the accumulated maximum trading limit per user per day is 0.5 BTC (c. 27, 500 USD).
Lightning Network has higher TPS because it runs and trades off the chain before it adds back on the chain. Off-chain trading is faster than on-chain trading, aiming to solve the problem of low scalability in Bitcoin. Currently, Bitcoin can only process 7 transactions per second (7 TPS). In contrast, Lightning Network can process thousands of transactions per second, with the growth potential to one million TPS in the future.
Lightning Network is built for high efficiency and low fees, which is ideal for micropayments. Currently, on-chain BTC transactions are relatively slow and expensive, while those via Lightning Network can be approved within seconds, with lower fees on average.
How to make deposits via Lightning Network?
1. Click Assets – Deposit – Select crypto BTC – Select BTC-Lightning – Continue.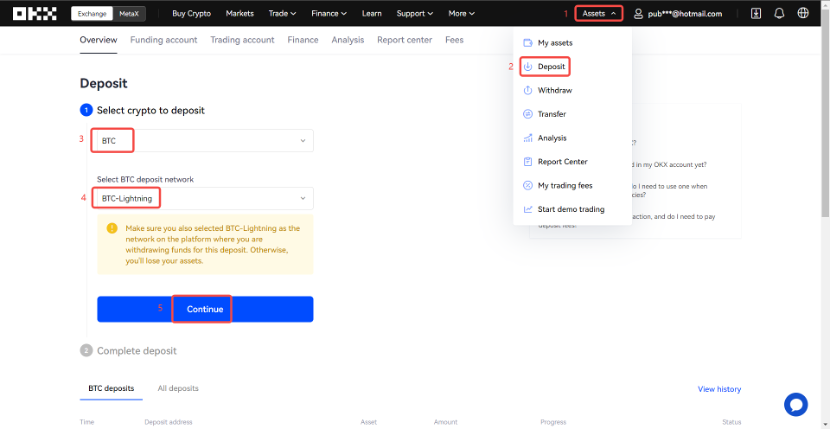 2. Select funding account and fill in the amount. The suggested deposit range via Lightning Network is 0.000001 – 0.1 BTC. Then click Create invoice.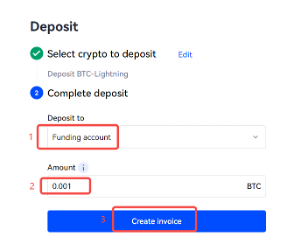 3. Copy the invoice number, then paste it in the Lightning invoice withdrawal place in the wallet or the exchange used for your withdrawal.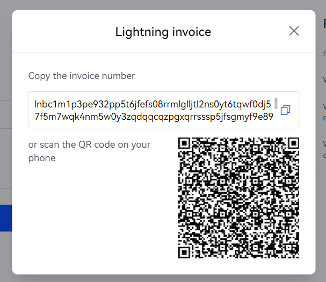 How to make withdrawals with Lightning Network?
1. On OKX's home page, click Assets – Withdraw – Select crypto BTC – On-chain – BTC-Lightning – Continue.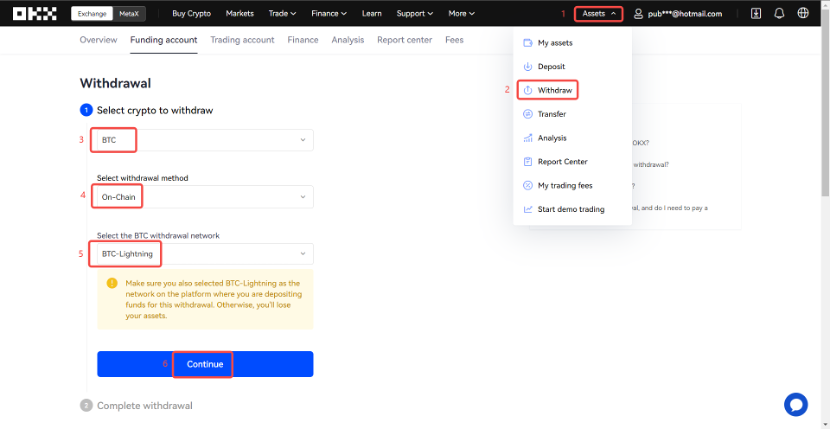 2. Type in the invoice info generated from the corresponding deposit platform, confirm the amount and network fee, and click Continue.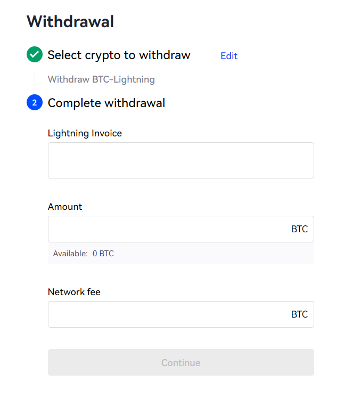 ---
A step-by-step guide to purchasing and selling crypto on OKX,
Step 1: Log in to your OKX account
Before you can start buying or selling cryptocurrency on OKX, you must first log in to your OKX account. If you do not yet have an account, click Sign up and complete the registration process.
Step 2: Select Buy/Sell
Once you have logged in to your OKX account, click Buy Crypto in the upper left-hand corner of the screen to get started.
Step 3: Select your purchasing method
The next step is to choose how you would like to buy or sell . There are two primary options on OKX: Express and P2P trade.
Finally, simply confirm your transaction details.
---
Sign up and log in with the App to claim your Mystery Box worth up to $10,000