With this achievement, we are thrilled to launch an Asia Exclusive Lunar New Year Promotion. We welcome you to join Lunar New Year celebration with your friends and family! We believe a better future is shared with all of our users. #OKXAsia #OKXLunarNewYear


/ Refer and Win:
Refer a friend to start trading on OKX. You and your friend will each receive 25 USD red packets from OKX.
At the end of the promotion, we will also split the 3 Million USD pot giveaway to the participants. The more you refer, the bigger the split.
The participant who refers the most, will receive a Tesla.
Social share and win $10K USDT.


/ Promotion Period:
From: 12:00, 27 January 2022 to 23:59, 7 February 2022 (GMT +8)


/ Participating Asia Countries:
Bhutan, Brunei, Cambodia, India, Indonesia, Japan, South Korea, Laos, Maldives, Mongolia, Myanmar (Burma), Nepal, Pakistan, Philippines, Sri Lanka, Thailand, Timor-Leste (East Timor), Vietnam.


/ How to Join the Celebration?
Step 1:
Step 2:
Refer your friend from the app, see the image tutorial below.
Click on the "send free red packets" on the OKX app.
Scroll down to the bottom to choose your preferred potions: "Share links," "QR Code," or "Share Pictures."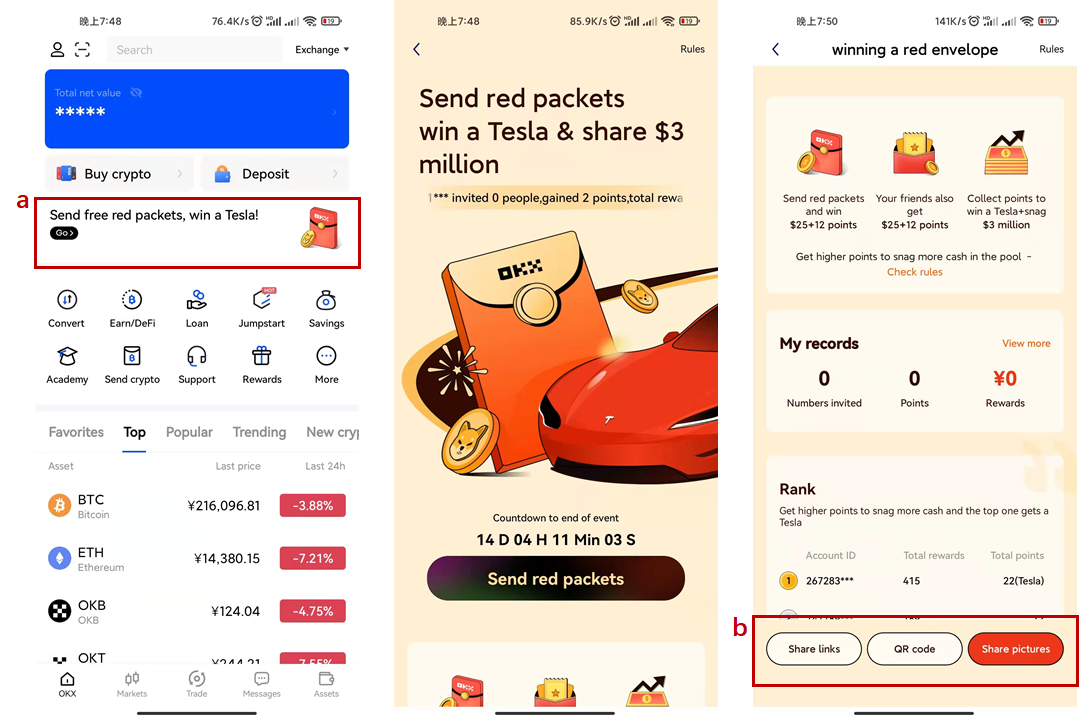 Step 3:
Once your referral trades over 100 USDT, both you and your referral will receive a $25 red pocket from OKX.


Step 4:
Check the leaderboard! See your ranking on sharing the 3 Million USD pot giveaway in the OKX app. You will receive 12 points for each completed red pocket referral. The more points you earn, the more you will receive from the 3 Million USD pot. Reminder, the top winner receives a Tesla!


/ What's Inside the $25 Red Pocket?
30,000 SHIB
24 USDT Rebate Card


/ 10K USDT Social Share:
Our Asia CEO, Netero, is giving away $10K USDT red packet!
100 lucky winners will receive $100 each for social shares!
Hashtag #OKXAsia and #OKXLunarNewYear with your red pocket promotion mention on social media.
Follow our Asia CEO Netero's Twitter (@Mr_Netero). Netero will be announcing future Asia exclusive promotions through his Twitter. Stay tuned!
After completion of the 2 steps above, please fill out this
form
. We will select 100 lucky winners to earn $100 USDT each (USDT to your account, not rebate card!).
Terms and Conditions:
Prize pool of 3 million USD will be rewarded as rebate cards.
The value of 30,000 SHIB is measured at the price of $0.00033 per SHIB, OKX does not hold responsibility for the price fluctuation.
Points earned from this promotion are only valid for the prize pool and will expire on 7 February 2022
The ranking list of total points received per user and reward distribution amount are not updated in real-time. The final list and Tesla winner will be announced before 14 February 2022.
$25 value package rewards are not distributed in real-time, up to 10 minutes delay.
All rebate cards received from this promotion are only valid for 15 days from the date receiving it.
Risk-controlled users are not qualified for this promotion.
$10K USDT Social Share prize will be paid directly to users, not rebate card, to qualify you need to fill out the form. Payments will be paid out by 7 March 2022.
$10K USDT Social Share participants need to complete OKX KYC 1 to receive rewards.
All rights reserved by OKX for this promotion.
---
A step-by-step guide to purchasing and selling crypto on OKX,
Step 1: Log in to your OKX account
Before you can start buying or selling cryptocurrency on OKX, you must first log in to your OKX account. If you do not yet have an account, click Sign up and complete the registration process.
Step 2: Select Buy/Sell
Once you have logged in to your OKX account, click Buy Crypto in the upper left-hand corner of the screen to get started.
Step 3: Select your purchasing method
The next step is to choose how you would like to buy or sell . There are two primary options on OKX: Express and P2P trade.
Finally, simply confirm your transaction details.
---
Sign up and log in with the App to claim your Mystery Box worth up to $10,000