When a user withdraws crypto from OKX to the on-chain wallet, the withdrawal might be successful but cannot be credited to the account. It may be because the withdrawal is transferred to a wrong chain. For example, you are supposed to withdraw it into the ETH wallet, but you accidentally withdrew it into the MetaX wallet. How to retrieve it after the wrong transfer? You can refer to the following procedures.
Import the private key or the seed phrase of the ETH wallet to your MetaX wallet in OKX
1. Click the icon on the top right of the OKX app homepage and select MetaX – Import wallet – select private key (or seed phrase) and type in – click Continue.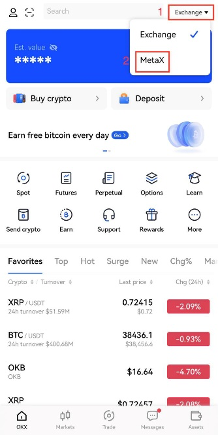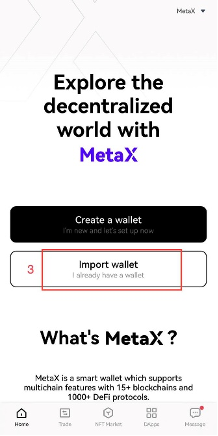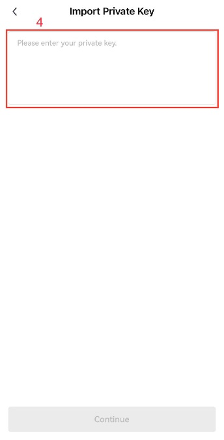 2. Select OEC – type in Wallet password – Click Confirm to complete the introduction.
Transfer funds back to OKX via the MetaX wallet
Note: When withdrawing, there shall be OKT in the MetaX wallet as the fee.
1. Open OKX app, click Assets – Deposit – Select USDT – Select USDT-OEC – Copy address.
Note: MetaX supports EVM (Ethereum Virtual Machine), and both follow the same set of public key and private key generation rules, so the addresses, private keys, and seed phrases between MetaX wallets and ETH wallets can be used interchangeably.
2. Click the icon on the top-right corner of the OKX app homepage and select MetaX – Click Send – Select USDT – Paste the address copied from previous step to Recipient address – Fill in Amount – Click Continue – Fill in Wallet password and click Confirm to complete and you can retrieve the withdrawal transferred to the wrong chain.
After completing the above procedures, users can reselect the correct chain to withdraw in OKX.

During the withdrawal process, if users selected the wrong chain, the withdrawal may not be shown. Therefore, it is recommended that users confirm the deposit addresses and their corresponding chains. For example, USDT-ERC20 belongs to ETH, USDT-TRC20 belongs to TRX, and USDT-OEC belongs to OEC.

If you want to transfer ERC20 in the ETH wallet into the MetaX wallet, you can also follow the above procedures to operate.
---
A step-by-step guide to purchasing and selling crypto on OKX,
Step 1: Log in to your OKX account
Before you can start buying or selling cryptocurrency on OKX, you must first log in to your OKX account. If you do not yet have an account, click Sign up and complete the registration process.
Step 2: Select Buy/Sell
Once you have logged in to your OKX account, click Buy Crypto in the upper left-hand corner of the screen to get started.
Step 3: Select your purchasing method
The next step is to choose how you would like to buy or sell . There are two primary options on OKX: Express and P2P trade.
Finally, simply confirm your transaction details.
---
Sign up and log in with the App to claim your Mystery Box worth up to $10,000